Kai Tak Cruise Terminal, State of the Art Architecture with State of the Art Security

The Kai Tak Cruise Terminal is a key icon in Hong Kong's skyline. Architecturally and visibly stunning, it features state of the art engineering and facilities for expo centre, film shoots, navy berthing, gala party venues and weddings. It even has landscaped gardens, much in demand for wedding photos. The Kai Tak Cruise Terminal is one of the worlds' foremost cruise terminals. Designed by Foster + Partners, the three storey building features light filled passenger and service areas, efficient passenger circulation between drops-offs, waiting halls, concourse, jaw-dropping views of Victoria Harbour and an impressive slew of amenities.
The terminal is able to accommodate two mega cruise ships with a gross tonnage of up to 220,000 tons. The comprehensive Security & Surveillance solution was designed and implemented by Hong Kong based UniVision Engineering Ltd. using AMG Systems' transmission technology. In this interview UniVision Project Manager, Tony Man, and Peter Chan, Sales Director of UniVision, describe the project and the challenges.
Tony Man, Project Manager from UniVision says, "The project was designated the 'Design, Supply, Delivery, Install, Testing, Commissioning, Warranty and Maintenance of interconnected Closed Circuit Television (CCTV) System at Kai Tak Cruise Terminal, for Hong Kong's Customs & Excise Department (C&ED,) Hong Kong Police Force (HKPF), Hong Kong Immigration Department (ImmD) and Tourist Commission (TC)'. A bit of a mouthful when you read it and on the surface you would think this is a simple, even though this is a large project. However, the truth is that it soon turned out to have complicated requirements and the design needed to allow different organisations to access different aspects of the CCTV, independently of each other. Each had different credentials, which excludes each department from looking at certain information."
Sales Director of UniVision, Peter Chan said, "In order to the project as efficient as possible, and cut down on camera numbers, the Governing Departments, mentioned above, approached us with the task, suggesting the TC's (total of 260) cameras would be shared by all three Governing Departments. However, the other Departments' cameras were not to be shared with TC, as a reversal favour. The 620 cameras requested meant that we had to deploy servers to each of the Governing Departments and set the right system privileges and install firewalls so that the right camera(s), and the right users, can access the TC cameras at any time by all approved departments. Using Fibre Optics for the back bone, allowed high quality, real-time transmission of all signals, whilst utilising minimum numbers of fibres and the ability to send videos as well as data signals from the cameras for control of PTZ (Pan Tilt Zoom) to the control room."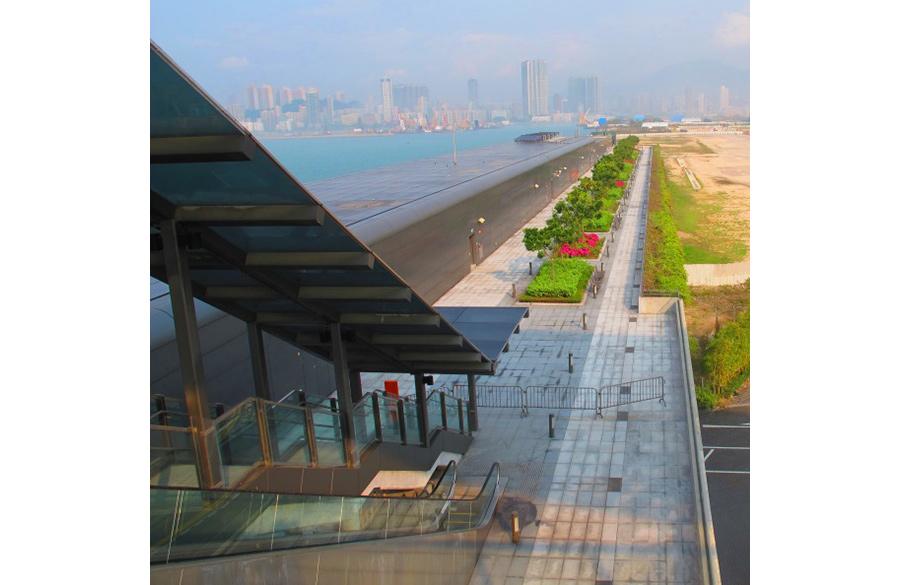 Partnership with Univision
UniVision, also listed in AIM UK and a strategic partner in APAC (Asia Pacific), decided to work with AMG Systems in the UK for the transmission solution and deployed AMG's award winning 3700 product series for ring topology which has been designed specifically to provide for low cost, multi-channel drop and insert video collection, together with associated Ethernet and low speed data and audio signals. The drop and insert feature has been included for future expansion, but is currently on hold Tony Man Explains, "We used to work with another supplier of CCTV transmission technology, but we needed reliable support and stock availability which they could not achieve. In some cases product supply exceeded more than 3 months. AMG's solution is more versatile and is module based. The size format of AMG's units means that we have additional space in both the remote and control locations. It was, therefore, an easy choice to use AMG's Technology. It's much easier to consider design enclosure requirements because most AMG items are interchangeable. This is ideal for our projects. AMG also made their solution very competitive for mass purchase which is very important. Unfortunately, in todays' fierce market, customers seem to care more about cost. The Price/Performance feature during installation, the high standard of quality control, and simple installation made AMG ideal. The additional benefit of using redundant loops for optical links is a new opportunity for our end users. On the back of this successful implementation at the Kai Tak Cruise terminal we will continue to promote AMG's technology further in the Hong Kong market as it adds uniqueness to our system design."
Designing and implementing the solution
In total the Kai Tak Cruise Terminal CCTV solution has 620 cameras in a mixture of IP, Analogue and 360 degree functionality. Of those 260 comprise the designated TC solution. The 620 cameras are split into 220 IP PTZ cameras, 240 Analogue PTZ cameras and 158 fixed, as well as two 360 degree cameras, with panoramic views. The solution has intentionally been designed with the possibility for expansion. This is a significant consideration, as there are plans for further berth extension to be completed by 2018.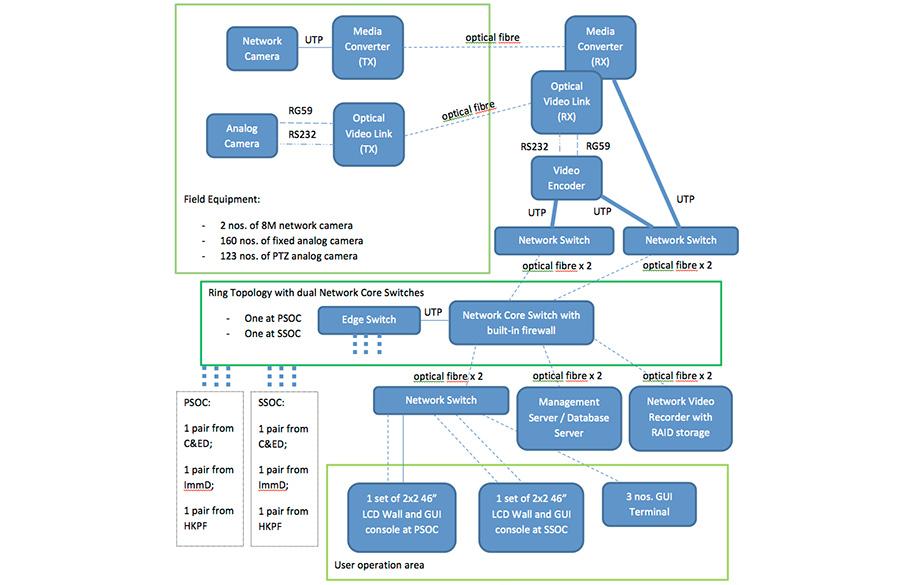 Challenges during the implementation
The original project plan called for a project completion within 6 months. However, the Hong Kong weather is unpredictable, and there was an unseasonably large amount of rain during the period, which meant that the implementation stretched to 14 months.
Tony Man says, "The timescales meant that we had to have all the outstation equipment installed within the first 2 months. This meant speedy supply from the manufacturers in terms of cameras, cable, network devices, switches and last, but not least, the AMG transmitters. It was a very tight project indeed."
"We were expecting longer delivery time, but with tight project management, and the support from AMG, we arranged the out-station equipment to be delivered first, so that installation work would not be disrupted. Then the central equipment could be delivered at a later stage."
"This is the first time we have worked in 'real' collaboration with a supplier. Although we used some of the standard features of the products, we were really delighted to understand that they can also manufacture customised solutions too. Their in house design skills are unique in the market. AMG's training is something we will take more advantage of next time as, in hindsight, we could have 'hit the ground running' with taking advantage of this advice and support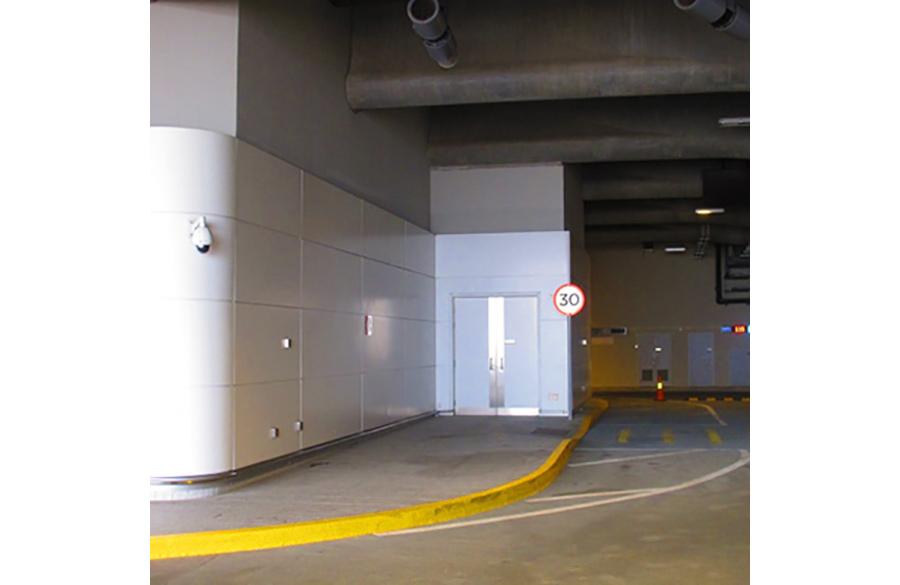 The on-site control room at Kai Tak Cruise Terminal is manned 24/7
Investments in CCTV solutions often come across as 'grudge' investments. You have to have a sophisticated Security & Surveillance solution in place for such a prestigious site. Because the authorities need to able to document an incident as well as being able to take the documentation into court if it's really serious, the solution has to be state of the art. The solution at Kai Tak Cruise terminal incorporates sending the CCTV signals to an onsite control room which is manned 24/7, as well as to a fall-back control room in case the primary control room is not able to operate. And in terms of investment, there is nothing to begrudge according to Peter Chan.
"We made the best choice of supplier by choosing AMG. Some of the optical links are installed in really difficult access areas. It would take a tremendous amount of man-power as well as effected 'down-time' hours to make repairs. To sum up; by choosing AMG's 3700 series with it's very high documented Meantime Between Failure (MTBF) we have cut the chances of repairs and re-occurring repairs, hence we have minimising the possibility of down-time hours, and we have a very happy customer. I am thrilled by the co-operative manner with which AMG approached the project, and their support is impressive and prompt. Although, in all honesty, we didn't have to call on AMG much for support - the equipment passed with flying colours." Peter Chan says with a smile.